DATE:

AUTHOR:

The Reclaim Team
Multiple time ranges for Habits & Smart 1:1s
DATE:
AUTHOR: The Reclaim Team
Wish you could schedule your gym Habit to mornings on Tuesdays, but evenings on Thursdays? Or are you trying to find more overlap for your Smart 1:1 meetings across you and your attendees' schedules?
Good news! You can now set multiple time ranges for Habit and Smart 1:1 events, and customize both attendees' hours for your Smart 1:1 meetings.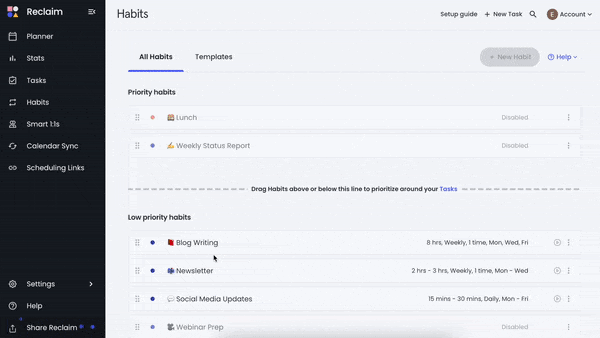 With multiple time ranges, you can:
Set custom hours for specific days on your individual Habit or Smart 1:1

Add multiple time ranges to a single day 

Use your Working, Meeting, or Personal hours for Habits and Smart 1:1s

Manage both Smart 1:1 attendees' hours as an organizer to resolve meetings with low overlap in availability 
Update your Habits and Smart 1:1s with custom hours by navigating to the Hours section in the Edit page of each individual smart event.