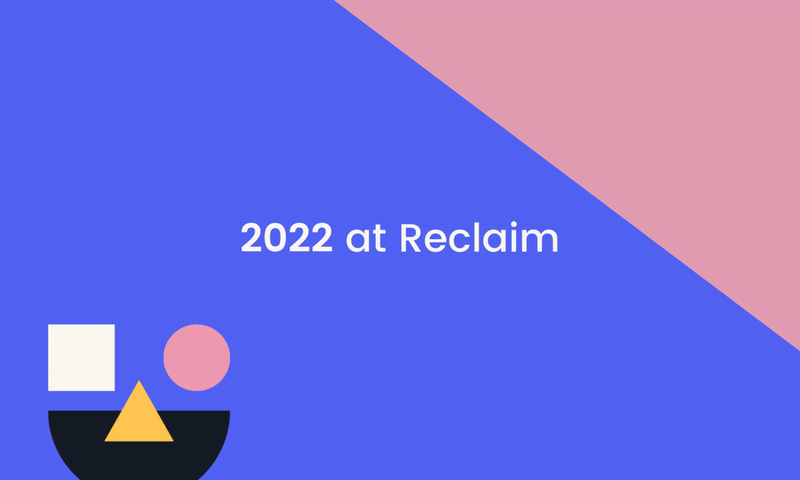 DATE:

AUTHOR:

The Reclaim Team
Habits
Calendar Sync
Scheduler
Settings
Slack
Tasks
Planner
Integrations
Meetings
Recap of 2022 at Reclaim!
DATE:
AUTHOR: The Reclaim Team
With 2023 just around the corner, we're taking a minute to celebrate an awesome year at Reclaim!
From introducing team plans, adding four new native integrations, to launching our Scheduling Links feature – here's a recap of the top highlights of 2022.
New 2022 integrations:
Scheduling Links (in beta) with high-priority links and flexible meeting durations so you can book the right appointments sooner. Learn more
Google Calendar Add-On so you can view and manage your task list, Habits, and meetings right in Google Calendar. Learn more
New Planner to view and manage your schedule right from Reclaim with drag-and-drop capabilities, stack ranking tasks, and quick event editing. Learn more
Team accounts to easily build out and manage your team in Reclaim for smarter collaboration. Learn more
Connected Calendars tell Reclaim to honor your availability across multiple calendars, without blocking events to a primary calendar like Calendar Sync does. Learn more

Improvements for Tasks: 
Improvements for Habits:
Improvements for Smart 1:1s:
Improvements for Slack integration:
Other updates:
Reclaim 2022 Trends Reports: